Shopping
on Nathan Road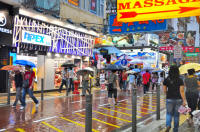 Nathan Road runs through the most important shopping areas in Hong Kong. No other road gives you access to such a mix of shopping choices from international designers to local crafts and everything in-between. In fact, it's mostly for locals, only a small portions are touristy.
What types of shopping can you find on Nathan Road? Here is a quick list of them:
fashion (including ladies market and export outlets)
golden jewelry
cosmetics
famous brands
sport shoes
audio-visual
computer
gardening
dried seafood
Salisbury to Austin
From the southern starting point of Nathan Road where it joins to Salisbury Roads, the first part of the road as it goes north to Austin Road is the area most often visited by tourists. Here you will find the luxury hotels, it commences with The Peninsular facing The Sheraton, and shopping arcades to match.
If you want LV, Chanel, Fendi or Burberry then this is where you will find them. However it isn't only high end luxury brands to be found even in this part of the road. As always Nathan Road offers something for everyone and beside the luxury Japanese department store Seibu, you will also find international mid range brands such as United Colors of Benetton as well as local brands such as Esprite and CityChain.
Big malls such as The Mira, The One and K11 offer a range of smaller shops both local and international in comfortable indoor environments.
Beside all this a small number of discount facilities still exist, notably the eateries in Chun King Mansions but also local Cosmetics chain SASA, the Hong Kong based Chow Tai Fok jewelers and various independent tailors and boutiques.
Joardan and Yau Ma Tei
The area around the Jordan and Yau Ma Tei MTR stations is a mix of local and international shopping with generally lower prices. Check out the opticians such as Lenscrafters, local drug stores Watsons but including international brands such as Triumph. Here you will find above the shops more offices and small facilities like doctors clinics, restaurants and bars.
Mongkok
If the south end is more shopping paradise for tourists then it is the local Hong Kong residents to come to Mongkok to shop till they drop in local brand shops with affordable prices. Not only is the road at this point lined with small local malls showcasing the latest in Japanese, Korean and Hong Kong fashions, but it is just a few steps away from the many market stalls in Ladies Market and Apliu Street.
Any suggestion that Mongkok may have had for being a down market area though is no more given the presence of big malls such as The Langam Place.
Prince Edward to Boundary Street
From a shopping perspective the northern end of the road offers less choices to interest the shorr term tourist. As the area becomes more residential though it is a great place to find a supermarket or a convenience store and stock up for those staying longer in self-catering!