Dim Sum
on Nathan Road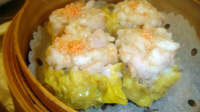 If you eat no other Chinese food while you are visiting Nathan Road you can't skip Dim Sum, the ultimate soul of Hong Kong Chinese food it is as much a cultural experience as it is a way to get sustenance. Also known as Yum Cha, or literally "drink tea" it is a selection of small dishes that are eaten with Chinese tea and shared with your friends. Resembling the Spanish Tapas in concept the actual dishes in Dim Sum are more often steamed and rich with the local specialties including pork and prawns.
Although traditionally Dim Sum restaurants had waiters who walked around carrying trays of dishes for people to select from, these days the trays are mostly replaced by heated trolleys keeping the food just at the right temperature right to your table. While in the most modern restaurants there may be little paper checklists on the table which allows you to select the items you want and have them delivered.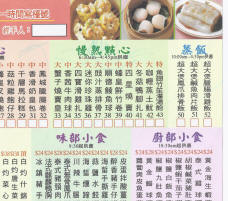 Even in those cases you will still find a few dishes that are carried around and offered to diners, please understand that you are free to accept or reject any item offered to you depending on your appetite and interest in the dish.
As Dim Sum allows diners to choose as little or as much as they want, and allow you to keep on adding more choices to your table through the course of a meal, the billing process involves a "card" which the waiter marks when each item is delivered. A rubber stamp or a pen will be used to make marks on the card indicating how many Dim Sum you have selected, this is quite a contrast to the traditional technique where the waiter simply counted the number of empty dishes on the table!
Not all dimsum are the same price, the card typically has sections for "small", "medium", "large" and "special" each marked with the appropriate Chinese character. Small is 小 , medium is 中(notice how there is a vertical stroke through the middle, or medium position, of the box), big is 大. The special or "top" categories carry the words 特 and 頂 and are reserved for items with fine ingredients such as dried scallops, or which require specialist techniques such the hedgehog deep fried buns. Don't worry, these don't have any hedgehog inside, they merely are shaped look like one!
For the very best food you must, in good Hong Kong style, sacrifice comfort and convenience. Try out the very authentic Hong Kong restaurant Wu Kong Shanghai Restaurant, 27-33 Nathan Road, be prepared though to handle an entirely Chinese eating experience with little or no help for tourists.
A more tourist-friendly option, at twice the price and just as good eating, is Loong Yat Heen, in the Kowloon Hotel just along the road at 19 -21 Nathan Road.
Other great choices include:
Tsui Hang Village Restaurant on the 5/F of Miramar
Shopping
Centre
and Celestial Court Chinese Restaurant in the Sheraton Hong Kong Hotel