Food
and dining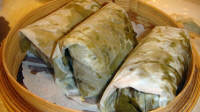 If you are eating around the TST area and particularly along Nathan Road then you have one of the largest ranges of ethic choices of food in any part of Hong Kong. Because of the large population from India and Pakistan in the district, together with a growing African contingent, the Nathan Road area in Tsim Sha Tsui has plenty of curry houses and African restaurants.
Inside the various hotels along and around the road there will of course the typical "coffee shop" restaurants serving international choices of food.
In this area there are also a few long established Chinese restaurants, from the cheap eats to the fine dining and investigating some of these will do more for a Hong Kong experience than sticking to the hotel cafes or the ever present fast food choices. Do try the dim sum unless you are vegetarian looking for vegetarian food or if you eat Halal food, then dim sum is not suitable because it has plenty of pork.
For in depth reviews and recommendations you can't do better that to go to the main food review site in Hong Kong which is OpenRice.com. This is not "Open" like "Open Source" but a pun on the Cantonese expression "Hoi Fan" which, while it literally translates as Open Rice means something more like "get ready to eat" and is what a mother might say as she puts the dishes on the table for the family meal.