Cautions
and safety tips for visitors
Sadly as with any district that attracts many tourists Nathan Road, and indeed much of the Tsim Sha Tsui district, has tricks and traps designed to catch the unwary. Hence as careful shoppers you need to do due diligence and take care.
Lets start with the obvious.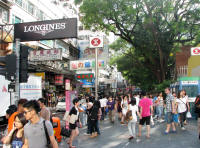 Those Rolex watches being prompted by the hawkers? They are not real. In fact most of the vendors are honest enough to say "fake Rolex?" in hushed faux whispers as you walk past.
More seriously when you go into a shop to buy a camera or electronic goods you are most likely to be told that the one you want is not available, probably it is superseded, or perhaps it isn't released yet. This is quite likely literally true but of course it is also a good chance for the salesman to introduce you to an even better option – which is not going to be cheaper is it?
There is nothing necessarily wrong with this as long as you are prepared to make your own decisions, and most importantly that you pay attention to the warranty and ensure that is one that will be valid not only now but when you return to your country. Many goods are sold with warranty that only apply in the country of purchase, so watch out for this.
Lastly, beware strangers – just as your mother warned you – while there are indeed friendly people who are pleased to chat with a tourist, you won't find that many hanging around on Nathan Road. If someone behaves like this, they quite probably are on commission for a factory or a showroom (perhaps owned by their "brother in law") which they would like to show you.
Having seen that factory you would then be escorted into a sales room where you'd be encouraged to make more purchases than you really wanted of goods that you really didn't want.